This expansion is a response to customer demand that will reach two-thirds of the U.S
population and increase revenue 10x by 2025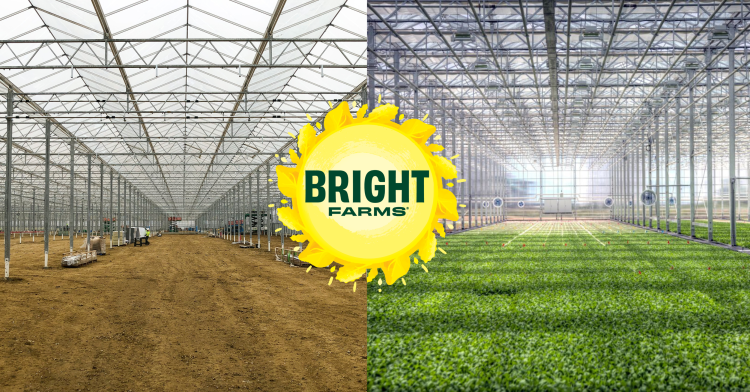 Irvington, N.Y. (February 28, 2023) – BrightFarms, a national leader in the indoor farming
industry, is expanding with four new regional greenhouse hubs offering sustainably grown leafy
greens to more people across the Eastern and Central U.S. The new locations will begin
shipping to retailers in 2024 to help fulfill increasing demand. This expansion and commitment
to innovation is expected to set BrightFarms up for 10x revenue growth.
Construction is underway on the first regional hub in Yorkville, Illinois, and BrightFarms will
break ground on similar facilities in Macon, Georgia and Lorena, Texas this summer, followed by
another hub in the Northeast later this year. Each location is strategically positioned near a
major metropolitan area, and has a combined up to 200-acre footprint with the ability to produce
approximately 150 million pounds of leafy greens per year once complete. Each regional hub
will also create more than 250 jobs in the agricultural sector – more than 1,000 total – at full
scale.
"Today's U.S. salad supply chain is not sustainable, with over 95% of all leafy greens grown in
two centralized, water-depleted regions on the West Coast. At BrightFarms, we've built a better
solution," said Steve Platt, chief executive officer of BrightFarms. "We grow our greens where
people consume them, 365 days per year. With our four new greenhouse hubs underway, we're
excited to deliver the freshest, cleanest and most responsibly grown produce to two-thirds of the
U.S. in a way that benefits the health of our consumers and the planet, while also providing fair
and equitable wages and benefits to agricultural workers who feed our country."
To facilitate this expansion, BrightFarms is proud to partner with KUBO Group and Green
Automation Group, leaders in greenhouse and automated growing system technologies, to build
the most advanced indoor farms in the country, revolutionizing how leafy greens are grown in
the U.S.
KUBO's cutting-edge Ultra-Clima technology delivers a climate control system that is stable and
both efficient and sustainable, equaling higher produce yields, less variability, improved food
safety and greater resource efficiency. BrightFarms also partnered with Green Automation
Group on the design and implementation of its Mobile Gutter System (MGS) which will fully
automate the growing and harvesting process, leading to record yields and improved food
safety.
BrightFarms' greenhouse model also puts sustainability initiatives at the forefront helping to
further its commitment to the planet. By growing in a controlled automated environment, close to
the point of consumption, BrightFarms' greenhouses use less water, land and shipping fuel, and
zero pesticides, compared to field-grown produce.
Cox Enterprises acquired BrightFarms in 2021. This acquisition marked the first purchase of an
indoor agriculture technology company by a blue chip investor, ensuring that the brand's rapid
expansion is not just possible, but also signaling a significant shift in the growth of the CEA
industry.
"Like Cox Enterprises, BrightFarms is committed to creating a better future," said Steve Bradley,
vice president of cleantech for Cox Enterprises. "This expansion of its greenhouses is another
step towards investing and innovating controlled environment agriculture for the next
generation. Cox is excited to partner in efforts to push the boundaries of possibility for indoor
farming and help build a multibillion-dollar business."
To learn more about BrightFarms, visit www.brightfarms.com.